How can we help?
We solve a wide spectrum of capital needs for companies

We provide individually tailored solutions
We invest from EUR 2 to 20 million
The cost of capital depends on the transaction risk
We have an investment horizon of up to 5 years (exceptionally up to 7 years)
In the case of private equity investments, we are looking for minority packages with a strong partner

We offer various financial instruments
Our offer includes a wide range of financial instruments, from debt to private equity
Instruments offered: senior debt, subordinated / junior debt, unitranche, mezzanine, restructuring instruments, convertible debt and private equity

We address a wide range of capital needs
We support companies in the implementation of the following needs : financing of working capital, new investments (capex), acquisitions, buyouts of shareholders, refinancing of existing debt, dividend payments, financial restructuring

We provide financing for various industries
We invest in various industries including: financial services, industrial goods, trade and services, health care, consumer goods, real estate, technologies, media and telecommunications, transport and logistics, hotels and leisure, energy

We support companies from Central Europe
We invest in companies from the entire region (over 700 projects analysed annually)
We have made investments in 9 countries of the region
We have a network of international industry experts and advisers
We offer diversified financial instruments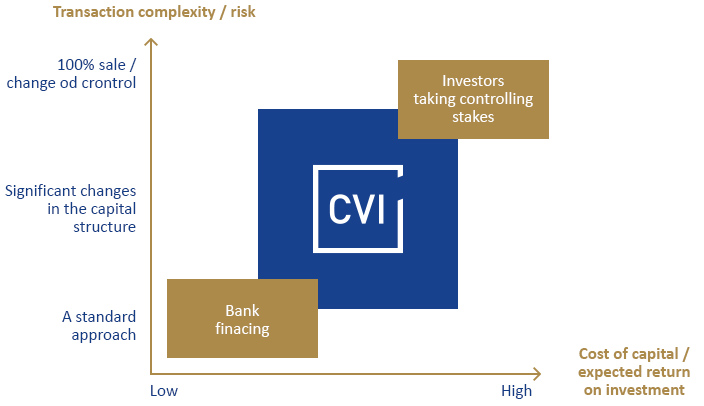 We are a partner that enables flexible adjustment of the company's financial structure.
We work with private, financial and industry investors.
We have the capital and appropriate tools to analyse each situation in an individualised way.